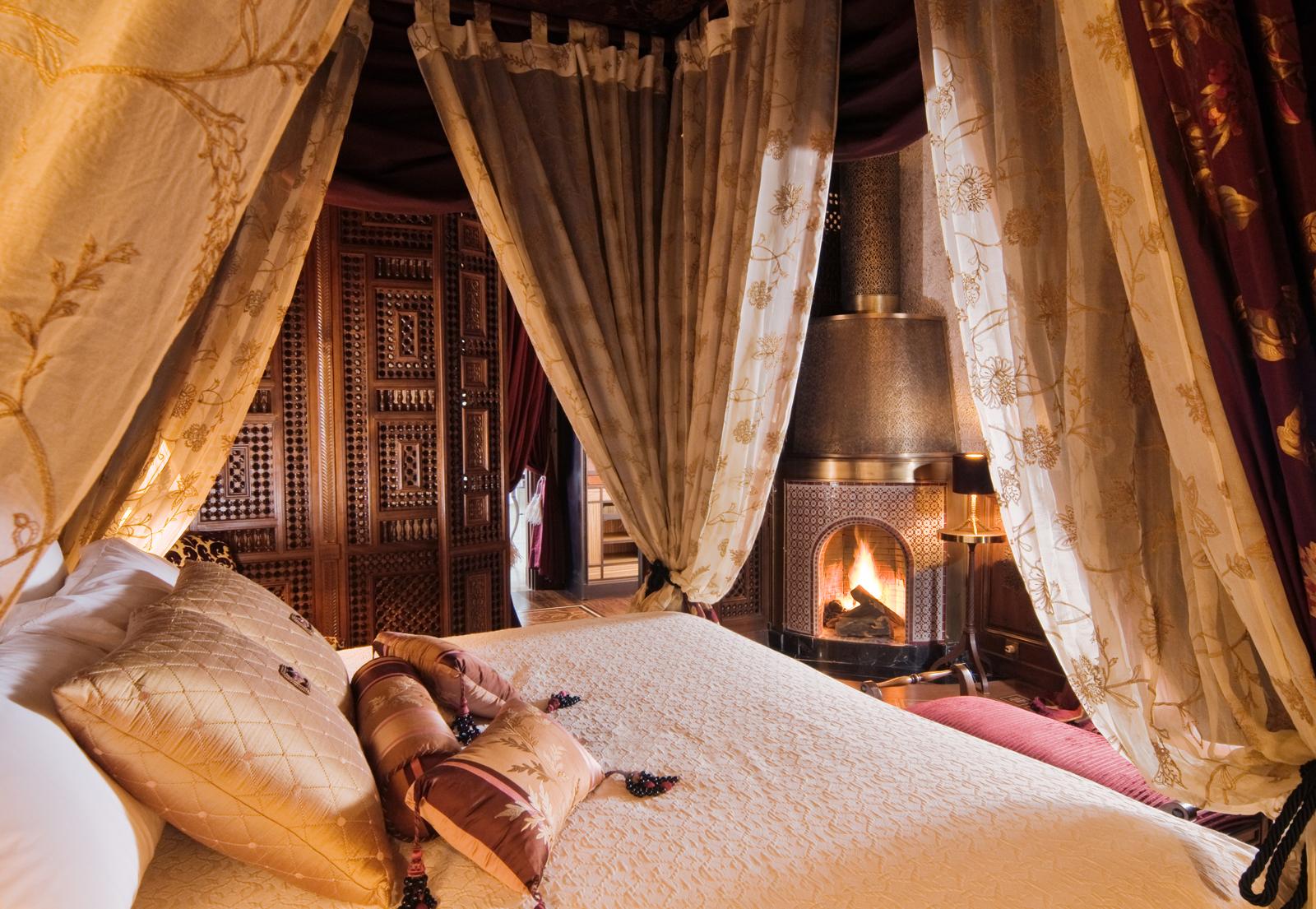 In the heart of mystical Marrakech, Royal Mansour is a hidden gem concealed behind adobe walls, discovered only by the lucky few who pass through its awesome bronze gates.

Royal Mansour, built on 3.5 hectares within the walls of the old city of Marrakech, was created to authentically represent the classic forms of the traditional medina – an elegant composition of Riads, restaurants and a spa, arranged around the reception area,with its lobby, dining, bar, lounges and library.

Dining In
Under the consultancy of Yannick Alléno, Michelin three-star chef from Paris, there are three main restaurants: French Gastronomic for French Fine dining cuisine, a Morrocan Gastronomic featuring reinterpreted traditional Moroccan cuisine, and La Table, an all dining restaurant, offering a high standard a la carte breakfast, lunch and dinner. Lobby bar, cigar and liquor and tea lounge.

Recreation and Health
A 2500 square meters authentic Moroccan Spa featuring beauty, fitness and gymnastic facilities. Indoor swimming pool. Outdoor swimming pool and children's pool. Children's club. Art gallery and library.

Features
Banquet and conference facilities. Wi-Fi available in all riads and public areas.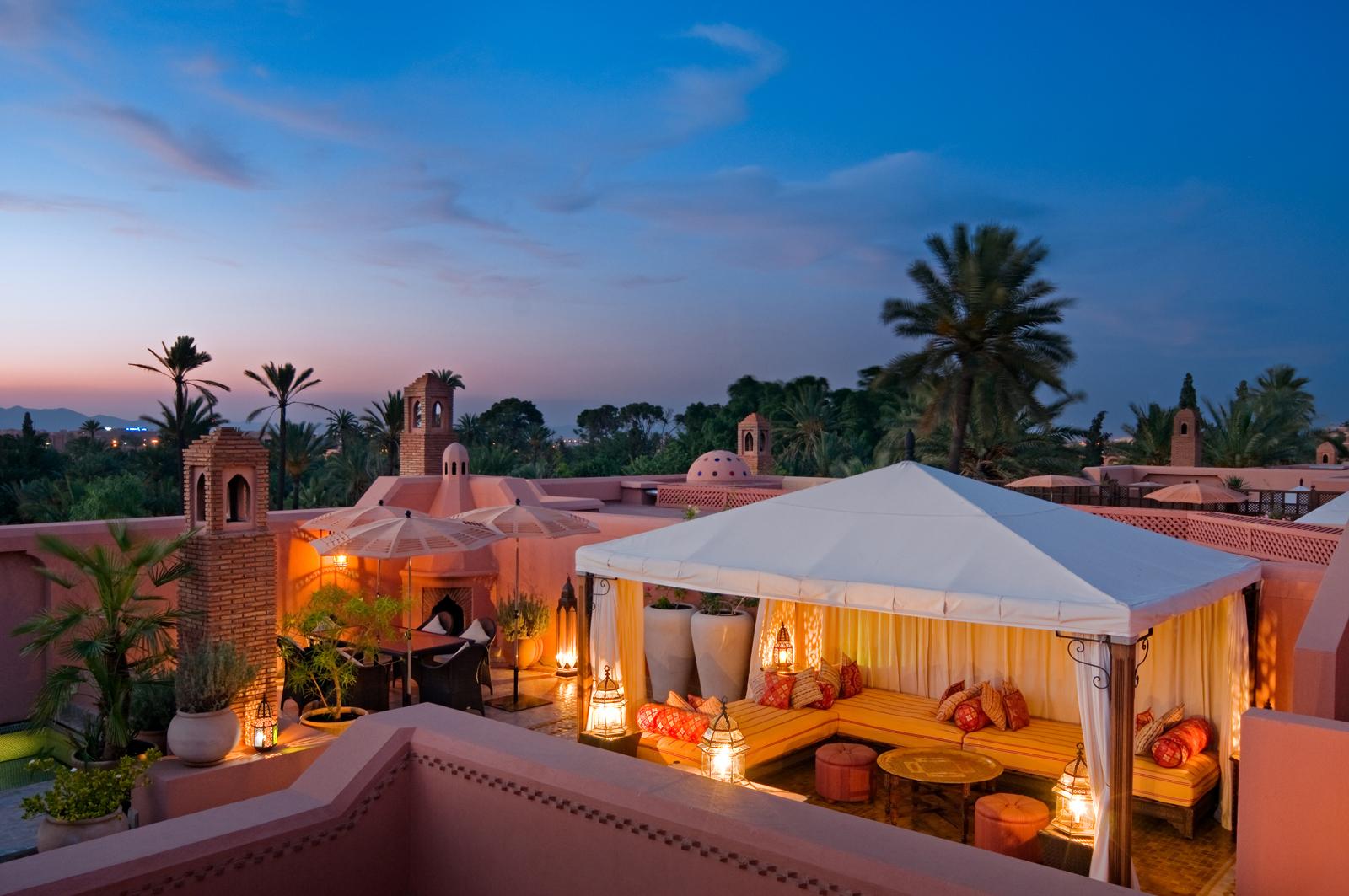 The Riads
There are 53 individually designed riads (private residences), each over three floors and comprising one to four bedrooms. The rooms are arranged around a central open-air courtyard with all ground floors featuring a living room, bar, lobby and an outdoor patio. The larger riads also have galleries and dining rooms. The exquisitely proportioned riads feature private roof terraces with plunge pools, open fires and some have private hammams and Bedouin tented areas. Each riad is distinctive in character and individually decorated with intricate hand-crafted techniques and finished with the finest fabrics, antiques and custom-made furniture of the highest specification. An exciting fusion of tradition and modernity, the riads are complete with state of the art technology, including roofs with
sensors to automatically close at a drop of rain. Touch panel control through the rooms further enhances the guest experience of the utmost comfort and convenience.



The Spa
The Royal Mansour Spa is a true paradise which promises to stimulate the senses, encourage relaxation and
offer a unique spa experience.The spa is based on traditional Moroccan rituals with the hammams being the pièces de resistances, but also offers the latest in contemporary spa technology and treatments. The spa uses leading beauty brands 'Maroc Maroc', 'Dr Hauschka' and 'Sisley' for facials and body treatments with 'Chanel' facials and make up also
available. 'Leonor Greyl' products are used in the hairdressing salon. Spanning three floors, the first floor, flooded with natural light is where massages, facials, water and enveloping treatments are administered. For additional privacy, there are spa suites where private treatments and exercise take place.The ground floor features two Hammams, a hairdressing salon with its private manicure and pedicure suites, Watsu bath area, 'Art of Living' working, boutique shop and relaxation area . Le salon de thé provides a haven
where guests can savour a quiet moment to read and enjoy the selection of healthy dishes, herbal teas and
fruit juices. An impressive indoor swimming pool in its own orangery-style glazed pavilion completes the
ground floor, whilst the lower floor is an area dedicated to an impressive range of state-of-the-art fitness
equipment.

The Restaurants & Bars
The cuisine of Marrakech is one of the most diverse in the world. In keeping with the exemplary standards
throughout Royal Mansour, a tantalising array of restaurants and bars is on offer. Under the supervision of Yannick Alléno, the famous Michelin three-star Parisian chef, there are two gastronomic restaurants: La
Grande Table Marocaine offering the very best traditional Moroccan cuisine with an innovative contemporary
twist; and La Grande Table Francaise, showcasing the finest in French gourmet cuisine. The lobby area
houses La Table, a beautiful loggia and al fresco restaurant serving breakfast, lunch and dinner, and a number
of private dining room and lounge options. Guests may also dine in the privacy of their riads, either in the cool
interior or on the roof terrace.