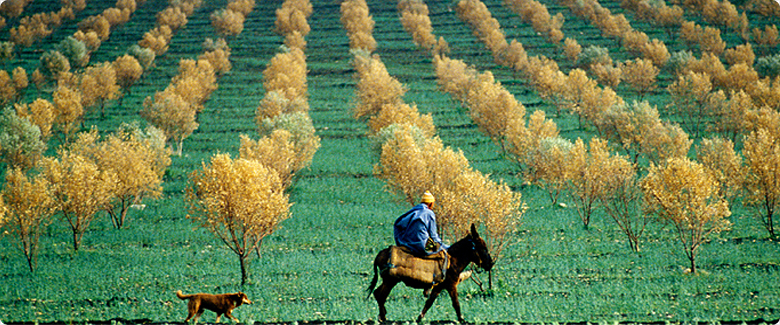 | | |
| --- | --- |
| | Choose your trip |
The Mediterranean coast
The Mediterranean, its waves steeped in a sea of shifting reflections, mirroring the bright white triangles of the sailboats, while guarding in its emerald and turquoise depths millions of shimmering silver fish.From Tangier to Saïdia it laps peacefully along the sublime black or white sand beaches, gnaws its way out the cliffs and sculpts delightful creeks and caves. Here, the Mediterranean has a friend: the Rif mountains, It sends them invigorating sea-scented breezes, which blend with the pure fragrance of cedars and pillthe tiny streets of the picturesque little villages perched on the mountain sides, Cabo-Negro, Oued Laou, Chefchaouen, Al Hoceima, Melilla and Saïdia - the whole Mediterraneancoast bathes in a rare and wonderful beauty.

es to blow through
From Restinga Smir to Martyl
Under an eternally blue sky, the lofty palm trees wave lazily to and fro above the luxurious villas, inviting hotels and charming family guest houses. These are the seaside resorts of Restinga Smir, M'Diq, Cabo Negro and Martil, four resorts the Mediterranean has chosen for Saille of its most delightful beaches, washed by translucent waters patterned with the changing reflections of land, clouds and sky.
Swimming, sailing, fishing - it bas been a busy day.
As the sun goes down it sets the sea afire and the red, green and blue fishing boats return to harbour loaded with fish, you will no doubt be tempted by a delicious grilled grouper kebab. Or you might like to take a stroll in the cool evening air at the port of Marina-Smir or Kabila Marina to admire the yachts.
And tonight, where will you go to dance?
If you are adept with the little white baIl, 9 marvellous halls await you at the Cabo Negro Royal Golf Club amidst the joyful colours of heather, tamarisk, juniper, agaves and mimosa...


From Tetouan to Cehfchaouen
The mountainous arc of the Rif soaks up the Mediterranean; nestling against it is a small white smudge that stands out from the surrounding greenery. Tetouan turns its back on a fertile valley to face the soft caresses of the sea breezes.
From the neighbouring hills, you can see the contours of the town, with the very distinctive Andalusian architecture in certain districts. High windows, large balconies, wrought iron grilles and ceramic tiles imported from Seville provide a decorative touch to many houses.
Tetouan also takes pride in its renowned craft production.
During the 1960s, its fine arts school gave rise to an artistic wave influenced by Spanish painting.
The town of Tetouan is definitely a work of art in itself.

A small village nestling between the twin peaks of the Djebel ech-Chaouen, Chefchaouen is a paradise of little white and indigo houses. Its fountains dance under a cerulean sky. Its hill stands beside an azure sea. The different blues shimmer and multiply ad infinitum.
The light slides over the walls, in through the windows, and enters the houses, its rays scanning over the smallest cobbles, imprinting its twisted shadows everywhere it can. The pebble-covered lanes meander around flower-filled squares, going up, down, around and across as in a joyous maze.
Chefchaouen is very pretty. The wind is constantly caressing it; the fig trees lean over it gently; the mountain looks at it tenderly. Travellers passing through observe it with envy.